For a small island, Guernsey has a surprisingly diverse landscape. 
---
The South of the island is a mix of high hedgerows, green fields and forested valleys, together with a quaint village feel. The Southern cliffs offer uninterrupted sea views and a change to escape the bustle of the town centre.
The West coast is the Summer destination of all islanders who take advantage of some of Britain's cleanest beaches and the island's best surfing locations. These are the best places to go to enjoy a warm Summer's evening after a head day's work. The beach is never more than a short drive or even just a walk away. 
Towards the North of the island, you can find common land which are well utilised by golfers and walkers. 
The East coast is the urban hub of the island but even this has not lost its small town feel with cobbled streets and regular events showcasing local produce and activities. 
The beauty of Guernsey isn't just in its scenery, it's in the lifestyle the island offers as well. Whether you're enthusiastic about sports, interested in history and culture, passionate about food and drink or just looking for somewhere quiet to relax, Guernsey is the place for you.
Beaches
With crystal clear turquoise waters, secluded coves and panoramic views, Guernsey has a variety of beaches to explore. From sandy spots to relax with family to sheltered bays perfect for wild swimming and kayak adventures, each of our five islands offer unique spots to enjoy and unwind.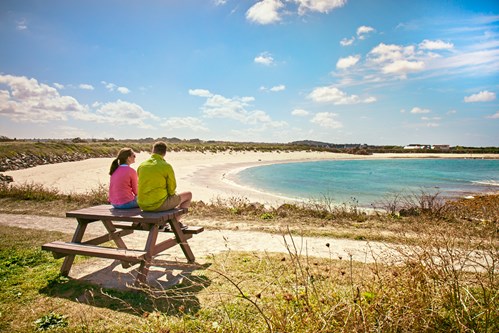 Island Hopping
From spotting Seals basking on rocks to the north of Herm, to catching a glimpse of a Kestrel at one of Guernsey's great birdwatching spots, the Bailiwick has an abundance of wildlife for all to see.
Island Hopping around the Bailiwick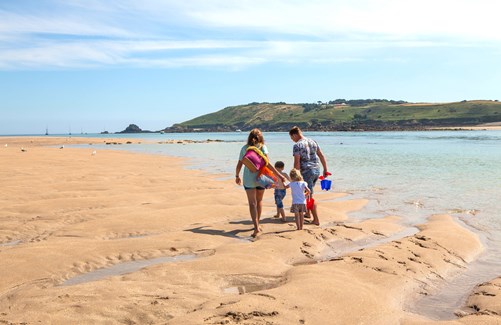 Conservation & Wildlife
La Société Guernesiaise owns or leases some 50 separate areas of land, totalling some 320 vergées (130 acres). These include the four major reed beds on the island, and some superb orchid fields, which are considered to be some of the best in the British Isles. 
Their reserves provide a safe habitat for a variety of local and migrating birds, small mammals, invertebrates and plants with viewing hides for public use.
Nature Reserves – La Societe Guernesiaise