ARTICLE •
PUBLISHED: 3 October 2022
Guest Blog - Angela Salmon, Guernsey Conservation Volunteers

In this month's guest blog, we speak to Angela Salmon from Guernsey Conservation Volunteers (GCV) about our beautiful island environment, increasing public awareness for Guernsey's biodiversity and how volunteering is a great way for relocators to make friends.
If you are interested in relocating to Guernsey for a better work/life balance or simply want to find out more about setting up a business in Guernsey, please get in touch.
---
Guernsey Conservation Volunteers have been helping to conserve Guernsey's natural environment since 1996. Working on beautiful sites and nature reserves around the island to maintain and enhance the biodiversity of the area.
By holding work parties each week, the community are able to go outdoors and do hands-on conservation work in Guernsey's natural environment with a great opportunity to visit new places in the island, learn new skills and make new friends.
"Conservation doesn't have to be about the big stuff like elephants and tigers; it can also be about looking after nature in the local environment and helping to increase biodiversity."
Angela was born in the UK but moved to Guernsey with her family when she was 9 years old, "I have been interested in nature for as long as I can remember…when I was 9 years old, we moved to Guernsey and I remember looking forward to going to the Grammar School for Girls because I would be able to study biology. I went on to study Biological Sciences as part of my degree at King Alfred's College in Winchester and became a Primary school teacher."
After her degree, Angela travelled the world following her love of biology and wildlife. She visited the orangutans in Borneo, dolphins and whales Australia and New Zealand and even the Peruvian Amazon as part of a conservation project, monitoring Giant Otters, the dawn chorus and taking leaf samples from the rainforest canopy.
"It was the trip to the Peruvian Amazon that was the tipping point for me and, after returning to teaching in Guernsey, I looked for an opportunity to do conservation work alongside my day-to-day job. I saw an article in the Guernsey Press about the Guernsey Conservation Volunteers and after attending my first work party I was hooked!"
Now in its 26th year and has grown from a small charity to an established conservation group which the community has embraced with open arms, "2021 was our 25th anniversary and it was also a record-breaking year for our group. We had more members than we've ever had before; completed more hours of work than previous years; worked on more sites; and had the highest number of people ever attending a single work party! One of our Big Sour Fig Pulls was attended by 52 people and 8 skips were filled with this invasive non-native plant. It was an amazing year for us!"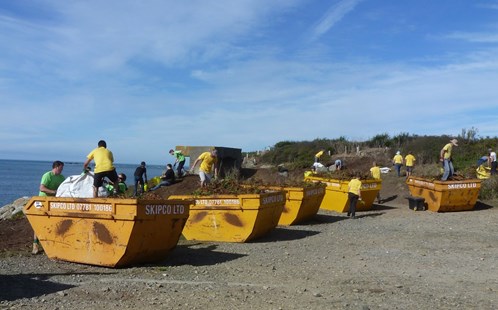 GCV hold work parties every Wednesday morning and every other Saturday morning at different sites around Guernsey, "We have a wide age range of volunteers at our work parties; anyone over the age of 16 is welcome to come along. It's a great way to get to know other people; connect with nature; enjoy some exercise and discover new places in Guernsey. People who are new to the island often come along as it's a great way of settling into island life. Alongside our important conservation work parties, we also enjoy social events throughout the year where we can meet up and have a good time doing other activities."
More recently, GCV has taken to social media to promote the hard work of the volunteers and the difference they are making to preserving preserving our beautiful environment for generations to come, "…not everyone can join us at these work parties and that's where social media can play an important role. I am always taking photos of the wonderful sites where we work and posting these on Facebook, Instagram, LinkedIn and Twitter. These photos can be enjoyed by the community, and this encourages people to visit the places where we have worked."
When we asked Angela what she loved most about island life, she said, "I love living on an island where nature is easily accessible. Guernsey's natural environment includes orchid fields with rare meadow flowers, Bluebell Wood with stunning flowers every year, freshwater douits (streams), shady valleys and coastal grassland. I can be walking on the cliffs in the morning admiring the beautiful sea views; cycling along quiet lanes passing earth banks of stunning spring flowers in the afternoon and enjoying a sunset barbecue on the beach with friends in the evening. I have enjoyed a lot of travelling over the years and the more I have travelled, the more I have realised how special Guernsey is. I feel very lucky to be able to call Guernsey 'My Home'.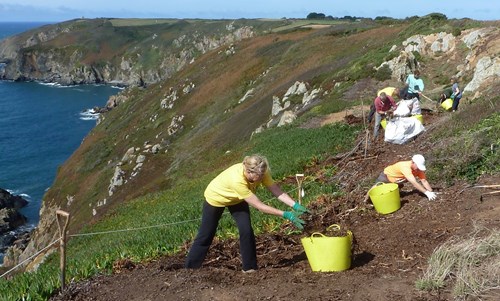 If you are considering relocating to the island, the team at Locate Guernsey are on hand to provide confidential guidance throughout your relocation journey free of charge. If you would like to understand how Guernsey could work for you, please get in touch on 01481 220011 or email enquiries@locateguernsey.com. 
© All photo credits - Angela Salmon