With over 1000 years of history, Guernsey has a rich heritage to immerse yourself in. From prehistoric dolmens and neolithic standing stones to fortresses and castles including World War II gun batteries dotted around the island, tracing our history is a fascinating way of understanding and appreciating the island. 
---
Loophole Towers
Through its unique location and relationship with both England and France, the island has developed a diverse history, influenced by numerous events over the centuries. Most prominently are the numerous Loophole and Martello towers that can be seen around the coast that were built as part of Guernsey's defences against the French in the 18th and 19th centuries.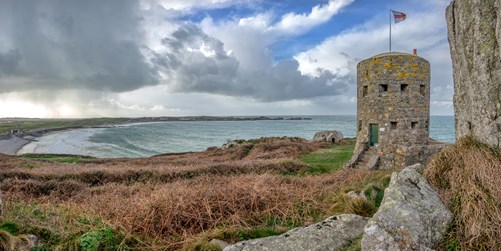 Second World War Occupation
The Channel Islands, including Guernsey, were the only part of the British Isles to be invaded and occupied by German forces during World War II. As a result, the islands became part of the Atlantic Wall when German troops arrived to claim them. 
The history of the Occupation can be found in museums and but is also notably visible around the island with fortifications dotted along the coastline. More recently, the life of occupied islanders was featured in the film The Guernsey Literary and Potato Peel Pie Society.
During World War II, many residents were evacuated to England before the Germans occupied the island from July 1940 until 9th May 1945, which is now the island's annual Liberation Day public holiday.
Discover The Occupation Of Guernsey

Pierre-Auguste Renoir
Impressionist artist Pierre-Auguste Renoir spent a month in Guernsey in 1883 and created fifteen beautiful depictions of Moulin Huet. The landscape of the South Coast is perfect for a day of exploring, and through the Renoir Walk, with marked vantage points along the route of each painting, you can discover the views he loved that inspired his celebrated works.
Renoir in Guernsey, 1883 Exhibition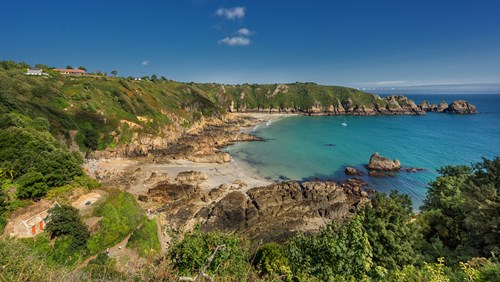 Victor Hugo
Acclaimed French author and poet Victor Hugo spent 15 years on Guernsey during his exile from France. Many consider his time in Guernsey to be his most productive writing period. You can visit his home Hauteville House, now a museum, in the heart of St Peter Port. Hugo would often walk around Guernsey's picturesque coastline, finding inspiration for his works.