ARTICLE •
PUBLISHED: 30 August 2022
Guest Blog - Rachael Laine, Le Tricoteur

In this month's guest blog, we speak to Rachael Lainé from Le Tricoteur about our island's famous guernsey jumper, her passion for promoting our heritage globally and her future plans for the brand.
If you are interested in relocating to Guernsey for a better work/life balance or simply want to find out more about setting up a business in Guernsey, please get in touch.
---
"Originally knitted by the wives, mothers and sweethearts of fishermen and farmers, traditional guernseys were knitted as hard wearing outerwear; to stave off bracing winds and rain."
Guernsey's knitting industry dates back to the early 16th century, when licences were granted by the Crown to import wool from England, "The use of worsted wool meant the hard twist given to the closely packed wool fibres in the spinning process, and the tightly knitted stitches, produced a finish that would 'turn water' and repel a surprising amount of rain or spray, springing back into shape after washing or a good soaking in a storm."
Le Tricoteur's jumpers are 100% wool and you don't need to wash them that often, "Wool has incredible 'self-cleaning' properties and we recommend wiping down that rogue exploding tomato or drippy ice cream rather than washing the entire garment. This design has always been considered reversible – which means we encourage flipping it front to back and back to front so you spread the wear across both sides."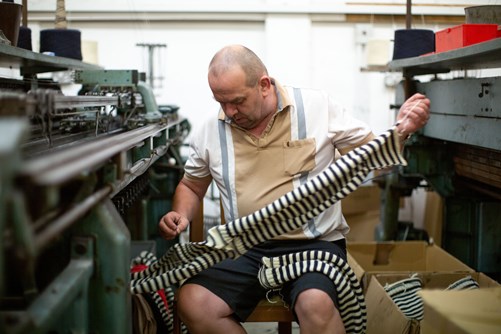 Rachael grew up around guernseys thanks to her family's love of sailing which meant the adults all had their own, "My dad bought me a Le Tricoteur when I was 15, but I thought it was sooooo untrendy I refused to wear it! He was furious as they aren't cheap, but I now have several and understand how much labour goes into a Le Tricoteur guernsey and I appreciate its heritage 1000 times over!"
Although not born in Guernsey, Rachael has very strong familial links to the island with generations of her family living and working in Guernsey, including her grandparents. Each Summer, Rachael and her sister would fly over to visit, "I loved the prop planes and being weighed on the luggage scales beforehand. You couldn't hear a thing though, once they got going."
She now lives in Singapore with her children and husband, where together they run another Fashion business alongside Le Tricoteur. "I do Sales & Marketing and he runs all the warehouses and operational side. Our plan will be to move to Guernsey in the next few years, fingers crossed. Until then the brand is in good hands – between them all the current employees have around 350 years experience knitting guernseys. I couldn't be happier with such dedication to the craft"
"As the centuries has passed, Le Tricoteur has never lost sight of the traditional qualities of this practical and fashionable garment and the guernsey will always remain firmly rooted in the heritage of the Channel Isle from which its name originates."
Le Tricotuer was first set up by Robert Macdougall in 1964 until he sold the company in 1984 to an external investment company, which has since been followed by a succession of local owners. This was until Rachael visited the shop in the Summer of 2018 and left with plans to buy the company.
Rachael is Robert's second cousin, once removed and in February 2020 she purchased the company with big future plans for the brand, "…my plans are far larger than just running a knitting business – I am passionate about the heritage and my dreams included cultural exchanges and a centre that can offer local and visiting people an immersive historical experience where they can see them still being made using the original techniques."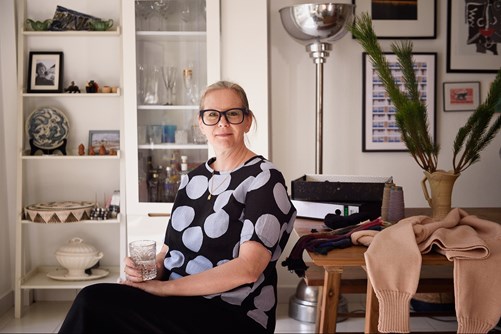 The guernsey is no longer just for fisherman, "We are now selling to all types of customers – from retired fell walkers to young fashionistas keen on sustainability. We still sell to farmers and fishermen, but visitors to the shop can be millionaire yachties, young honeymooners who are camping and occasionally we kit out entire families. These are pieces that last a lifetime."
"I am talking to as many people as possible on and off the island about the knitting heritage borne from the island. I position the traditional guernsey as the indigenous fisherman's jumper of the Channel Islands; just like the Fairisle (Scotland), Aran (Ireland) or the Nordlender (Norway)."
To this day, Le Tricoteur continues to create knitted pieces on vintage flatbed machines and finished by hand in the parish of St Pierre du Bois and since buying the business, Rachael has phased out as much plastic as possible and will soon be launching some new eco-packaging!
When we asked Rachael what she most loved about island life, she said, "The sea and the glorious sunsets. I have lived on several islands around the world – and in some cases right by the ocean, but the sea and coastline of Guernsey is spectacular. I haven't found anywhere on earth that doesn't lift my spirits as much as walking the cliffs and beaches in Guernsey at any time of year!"
If you are considering relocating to the island, the team at Locate Guernsey are on hand to provide confidential guidance throughout your relocation journey free of charge. If you would like to understand how Guernsey could work for you, please get in touch on 01481 220011 or email enquiries@locateguernsey.com. 
© All photo credits - Rachael Laine