ARTICLE •
PUBLISHED: 17 July 2023
Settling In Series Guest Blog - Guernsey With Kids, Summer Holidays

Most of the island's students will soon be breaking up for their long Summer holiday break and we've teamed up with Guernsey With Kids for Antonia's top 5 activities this Summer!
If you are interested in relocating to Guernsey for a better work/life balance or simply want to find out more about setting up a business in Guernsey, please get in touch.
---
Summer is a beautiful time to be in Guernsey and we are spoilt for choice when it comes to things to do as a family across the island. To narrow it down, we've pulled together our top 5 things to do with children in Guernsey during the summer holidays.
1. Beach Time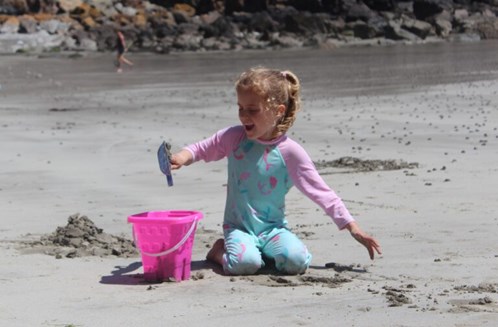 Sandcastle fun at Petit Bot Bay
Guernsey is very lucky to be home to 27 beaches, from large stretches of soft white sand and crystal-clear water, to small sheltered coves, there's the perfect spot for every family. In terms of family-friendly beaches, i.e. those which are easy to access, have toilets and a kiosk, these are our favourites; Cobo Bay, Vazon Bay, Grandes Rocques, Port Soif, Chouet/Ladies Bay, Pembroke/L'Ancresse Bay, Petit Bot, Saints Bay and Portelet. The beauty of Guernsey beaches is that they rarely get very busy, a busy beach in Guernsey is one with 20 people on it! Note that Guernsey is very tidal, and some beaches are better at low tide (Petit Bot) and others are best at high tide (Port Soif).
There's nothing better than building sand castles and playing games on the beach, and at Cobo and L'Ancresse you can do that without bringing toys with you, thanks to the Beach Toy Borrow Boxes. The boxes are located next to Mim's Kiosk at Cobo and the kiosk at L'Ancresse, and they contain lots of toys for children to play with on the beach (for FREE). Kids just need to return the toys to the box once they have finished playing with them. CLICK HERE for more information about the Beach Toy Borrow Boxes.
For information about all of Guernsey's beaches, including pictures of high and low tide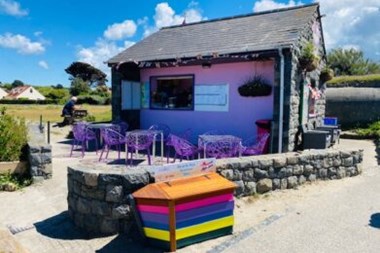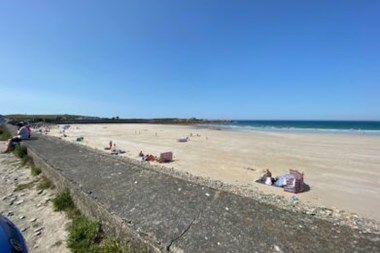 Beach Toy Borrow Box at Cobo Bay                                                Pembroke Beach
---
2. Visit Vale Castle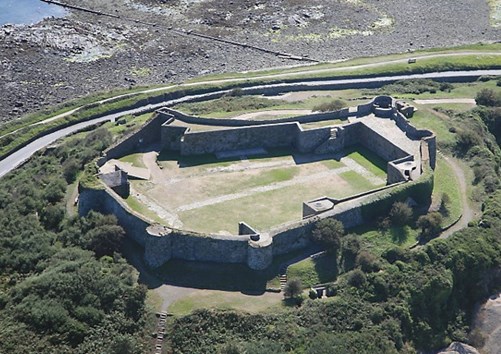 Vale Castle
We really enjoy a stop-off at Vale Castle because, for the kids, it's a real-life castle play area on 2 levels.  Sitting high above Castle Road, there is ample parking opposite the castle, with a number of paths leading up to the entrance.
When you walk through the main entrance you are greeted with a large grassed area which is enclosed on all sides by a large stone wall and it's the prefect place for a summer picnic.  The earliest parts of the castle that remain today, date back to the 15th Century, and when you're in the castle you get a feeling that so much has taken place there. The upper level allows you quite a unique experience because you can walk around the top of the castle remains, taking in the scale of it and the beautiful views of Herm in the distance.
During the Second World War, the German occupying forces fortified the castle with four concrete machine-gun positions, three 5cm mortar positions, trenches, four torbruk pits and personnel shelters. They remain at the castle, and make great talking points with the kids (I always enjoy looking at them too).
The castle is FREE to enter and is open every day, year-round.
For more information about Vale Castle CLICK HERE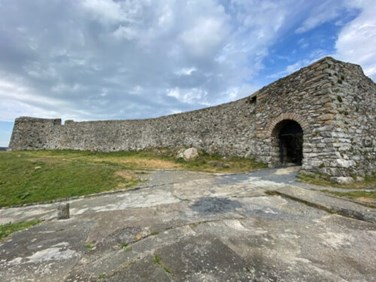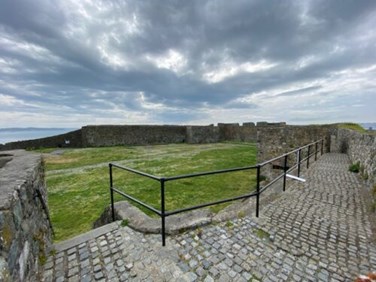 Vale Castle                                                                Upper level at Vale Castle
---
3. Spend the day in Herm
Belvoir Bay, Herm
Herm Island is located only 3 miles away from Guernsey and the only way to reach it is on the ferry which takes just 20 minutes. It's hard to believe that in such a short time you arrive at an island that feels worlds away from where you have come from. The island's slogan is "there's no place like Herm" and I couldn't agree more. 
There are 2 places the ferry will dock in Herm, and it all depends on the tide. Around high tide you will arrive at the Harbour and at low tide you will be dropped off at the Rosaire Steps which is an 8-minute walk back to the main Harbour, however, we love being dropped off at the Rosaire Steps as this is where we like to start our walk around the island beginning on the south-west cliffs. Herm offers stunning white sandy beaches, crystal clear sea and breathtaking scenery that can be fully appreciated by a walk around the island. 
From the moment you get onto the cliff path you will be blown away by the stunning views and the feeling that you have left behind everything that was on your mind prior to getting to Herm. I get this sense of relaxation every time I visit Herm, which is why I always feel like I have been on holiday after visiting the island just for a day! The cliff path snakes around the Herm coastline with the option to turn inland as you get near Seagull Campsite or carry on to the popular family beaches of Belvoir Bay (stunning sandy cove) and Shell Beach (beach that looks like you're in the Caribbean! It's made from millions of tiny shells washed up by the Gulf Stream).
With the Mermaid Tavern and the While House Hotel for food, along with beach cafes and an ice cream shop, Herm has it all for a memorable family day out. 
For more information about enjoying Herm Island with your family CLICK HERE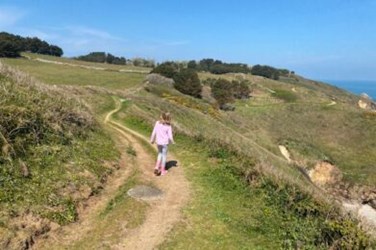 Shell Beach, Herm                                                                      Herm cliff path
---
4. Blackberry Picking
Summer is that time of year when old ice cream tubs come into their own thanks to blackberry picking.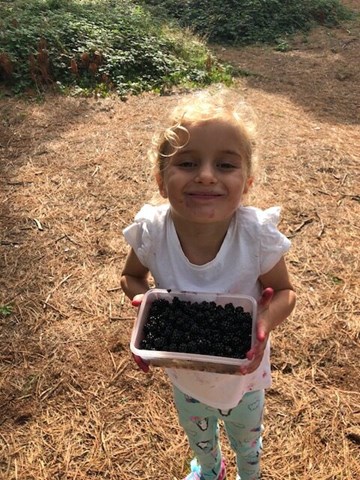 Guernsey has some fantastic blackberry picking spots and here are our favourites;
L'Ancresse Common (North of the Island):

 

This is hands down our favourite place to go blackberry picking in Guernsey, it's like the Rolls Royce of blackberry picking spots! There are many ways to access L'Ancresse Common and, thanks to the abundance of blackberries on the common, you can access it from any side and start filling your Tupperware.  We park to the right of Amarreurs playground, behind Ladies Bay, cross the small road and enter the common by the golf course. It only takes a few minutes to get away from the golf course where there are many routes you can take which are all lined with berries ready to be picked.
Le Guet (near Cobo): Le Guet is a small pine forest which offers trees to climb, rope swings, dens and hundreds of blackberries to pick, alongside breathtaking views over Cobo Bay.  There are lots of blackberry bushes throughout Le Guet so make sure you have enough pots to put them in! 
Les Petils lane, Bordeaux (just passed Bordeaux Harbour):

 

This hidden gem of a walk, play area and great blackberry picking spot is a place we always find ourselves going back too. Once parked you'll see the footpath to the left of the parking area and this takes you along a beautiful scenic route with blackberries lining the left-hand side. Once on the path for a few minutes you'll come across some concrete steps up the left bank, these take you to my kids' favourite spot thanks to the swings.  There are a number of rope swings and proper swings tied to the trees, there are also a few benches giving you chance to sit and take in the view.  Back on the ground level, there are a lot of blackberry bushes at the end of the path. This is such a lovely spot that blackberries are an added bonus to this tranquil area.
For more information about Guernsey's top blackberry picking spots CLICK HERE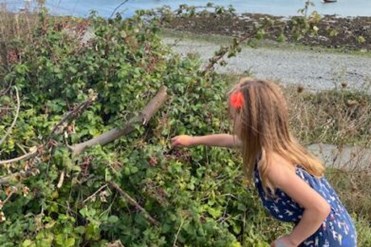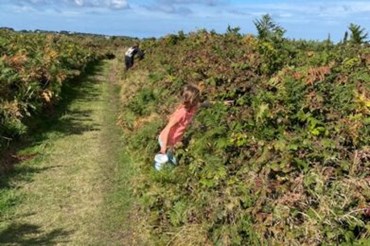 Blackberry picking at Bordeaux                                Blackberry picking on L'Ancresse Common
---
5. Have an adrenaline rush on an Island Rib Voyage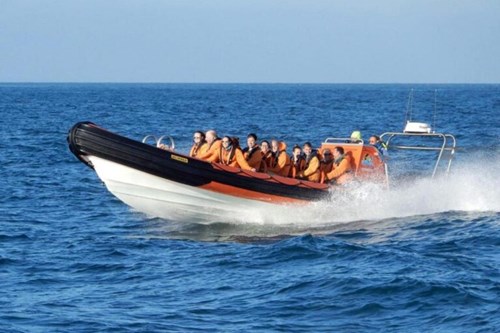 Island Rib Voyage Trip
There is no better way to get an adrenaline rush in Guernsey than on an Island Rib Voyage adventure. They offer a choice of exhilarating trips including Herm Explorer Wildlife Voyage, Legends of the Coast, Sark Coast & Caves Experience and the Hanois Lighthouse Adventure. 
We went on the Sark Coast and Caves Adventure trip last year and it was amazing. We got to Sark in record speed, went inside 3 caves, with Laura (our guide) telling us about the history of each cave before we entered. We then headed to Brecqhou, a small island off the West coast of Sark, then sped back to Guernsey. We all enjoyed every moment of the one-hour trip and made lasting memories.  It's a novel way to travel to Sark but we could have been on any of the trips they offer, it's the speed that makes it (and Laura was a fantastic guide). I would just advise that you take enough layers, even if it feels warm, it is much chillier when you get out on the water.  To read about our Sark Coast & Caves Adventure, CLICK HERE. 
For more information about Island Rib Voyages CLICK HERE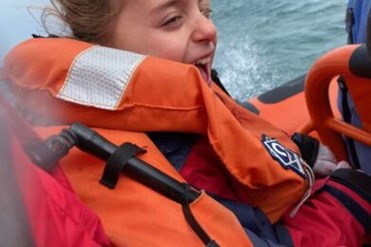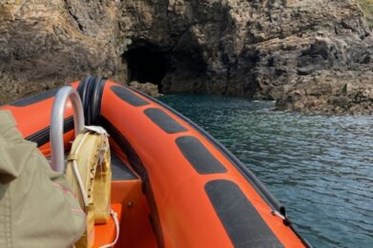 Thoroughly enjoying the speed!                                                          Sark Cave
---
Hope you have a great summer in Guernsey and that you get to experience all that this little island has to offer families.  For more information about things to do with kids indoors and outdoors in Guernsey CLICK HERE.
---
If you are considering relocating to the island, the team at Locate Guernsey are on hand to provide confidential guidance throughout your relocation journey free of charge. If you would like to understand how Guernsey could work for you, please get in touch on 01481 220011 or email enquiries@locateguernsey.com. 
© All photo credits - Guernsey With Kids