ARTICLE •
PUBLISHED: 24 May 2023
Settling In Series Guest Blog - Guernsey With Kids, Summer Half Term

Most of the island's students will soon be breaking up for their Summer Half Term holiday! We asked Antonia Rainbow from Guernsey With Kids to provide parents, with her top activities to keep their children entertained during this Half Term break.
---
We're fast approaching May half term, and if you're looking for inspiration to keep the kids entertained, then check out our top 5 things to do with children in Guernsey this half term.
1. Visit Castle Cornet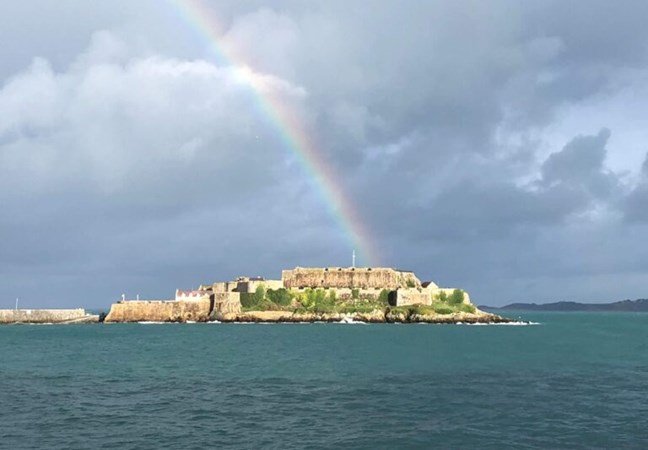 Castle Cornet

Castle Cornet is located in St Peter Port, and as you drive into town you will see the imposing sight of the castle at the end of Castle Pier. It is up there amongst our favourite places to visit in Guernsey thanks to the number of things on offer to keep kids entertained.
The castle site is so much bigger than you might imagine with loads to see whether it's cannons, formal gardens, German defences (a particular favourite of my girls is the small gun turret at the South Battery), beautiful views and 4 museums. When entering the castle, make sure to pick up a children's Trail Sheet, these add lots of fun for kids when looking around the castle and grounds as they contain images to look-out for.
A highlight for kids is the dressing-up room, located at the base of the clock tower. This little gem is home to a selection of medieval costumes for both boys and girls to unleash their inner knight, princess or dragon. One of my fondest memories is exploring the castle with my girls both dressed as knights ready for battle!
Picnics are encouraged at Castle Cornet and the lawned area in the inner ward is the perfect spot. This lovely grassed area (with a few benches dotted around the edge if you prefer) is a really nice relaxing space and if my girls are anything to go by, great for cartwheels!
For more information about enjoying Castle Cornet with kids: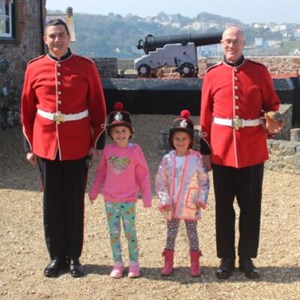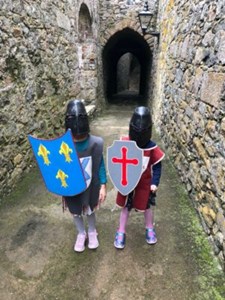 ---
2. Climb high at Up Climbing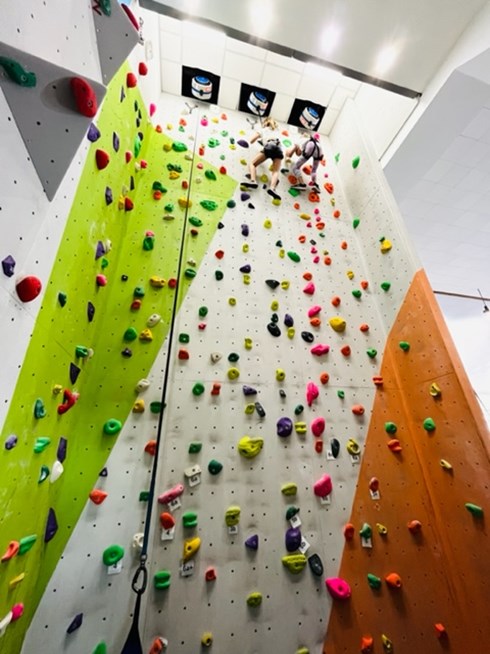 Scaling the high wall at Up Climbing
Guernsey's climbing centre, Up Climbing, is located in The Galaad Chapel in the North West of the Island, only a few minutes drive inland from Grandes Rocques beach. When walking inside the main room at Up Climbing you are instantly struck by how vibrant the place is, I remember the first time we visited and my girls' eyes were so wide they didn't know where to look first! To the left there is the bouldering wall with a very spongy floor, ahead are the impressive high walls, and to the right is the traverse walls with sofas and a bench next to it for those spectating or having a break.
They offer something for everyone, whether it's toddler sessions, an instructor led or parent led session for children 6yrs+, or one of their popular school holiday clubs. The beauty of climbing is that it is suitable for everyone, you can feel it working your arms, legs, core and muscles you didn't even know you had, but you don't need to be fit to give it a go.
For more information about Up Climbing: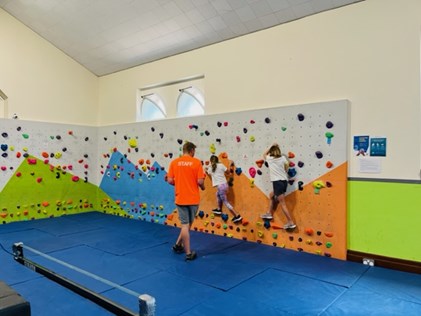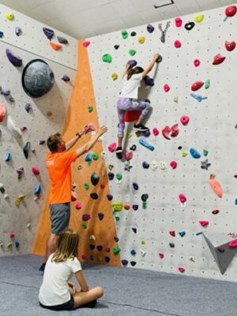 ---
3. Visit the Little Chapel
The Little Chapel
The Little Chapel is really special and maybe not what you might consider as a kids' attraction, however, it is always on our list of places to take visitors with kids. Even being called the Little Chapel cannot prepare you for how small the chapel is, to the point that you cannot believe it is big enough for people to fit inside! It is the miniature size of the chapel, alongside its beautiful decoration, that makes it fascinating for children (and adults).
The Little Chapel is situated in the parish of St Andrews, off Les Vauxbelets road (on the site of Blanchelande College) with ample parking.  It is breathtaking when you first see it, measuring only 16ft (5m) x 9ft (3m) and decorated with seashells, pebbles and broken china. Once inside, the biggest surprise is seeing a tiny staircase leading down to the lower level. This is my girls' favourite part, they think they look like stairs from a fairy tale castle!
I'd be amazed if anyone only goes into the chapel once when they visit. The first walk-through highlights the beauty and uniqueness of the place, and then when you know what to expect, you can really look at the detail and appreciate it on a second walk-through.
For more information about the Little Chapel: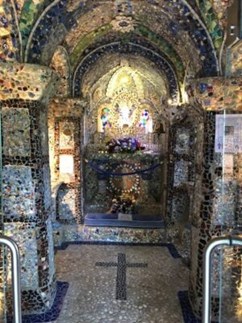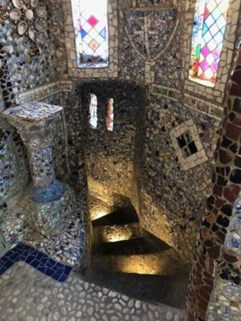 ---
4. St Saviour's Reservoir Millennium Walk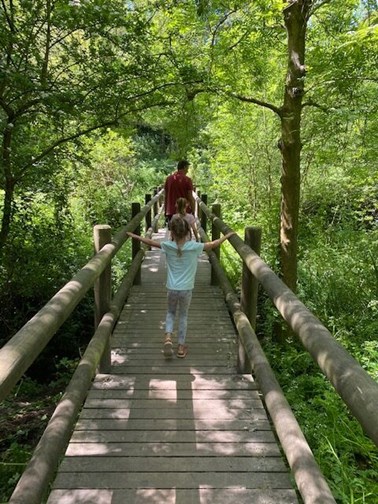 Crossing the bridge on the Millennium Walk
Tucked away in St Saviour's is the Millennium Walk, a nature trail around the St Saviour's Reservoir that is like nowhere else in Guernsey.  It takes you through lots of woodland, over a dam, over a few bridges and down some country lanes and is always an hour enjoyably spent.  The nature trail is 3km long and can be joined from any of the 3 parking areas that are dotted around the reservoir.
The highlight for us of this walk is the dam wall because the view from the wall is something else. It shows the scale of the reservoir, but also how high up you are, with the St Saviours Water Treatment Works looking so far below you.
The Millennium Walk is the perfect place to get away from it all because it's so peaceful and kids can explore for the majority of the walk away from any cars. It is suitable for the whole family, even dogs can join, though they must be kept on a lead at all times.
For more information about the St Saviour's Reservoir Millennium Walk: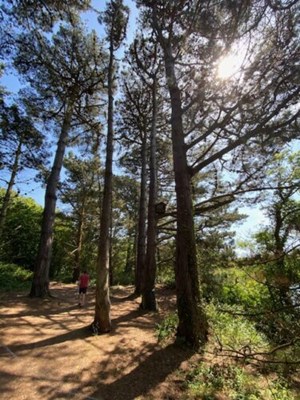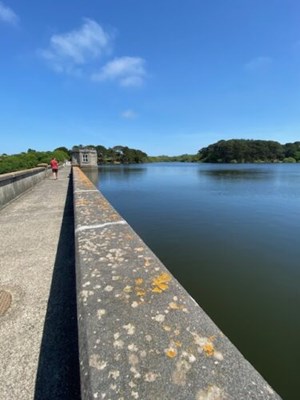 ---
5. Get crafty at Iris & Dora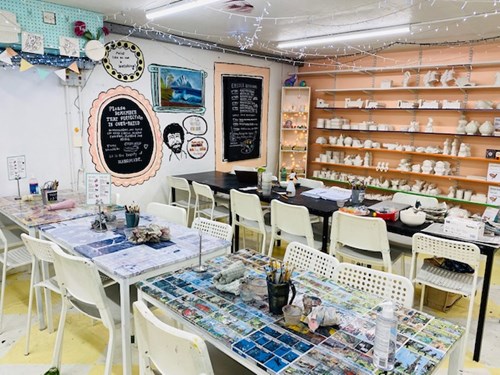 Iris & Dora
Iris & Dora is THE place in Guernsey to go for everything crafty, thanks to the ceramic studio, painting studio and a printing studio. Pottery painting is always a huge hit with kids and there is a huge selection of pottery to choose from. It's possible to just turn up and start being creative or you can book onto one of their half-term courses.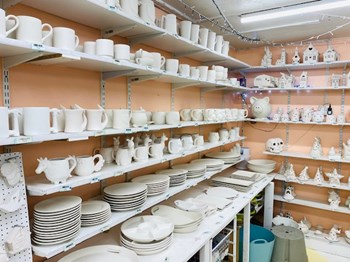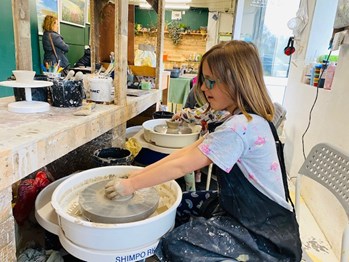 Whatever you choose to do during the May half term, we hope you have fun and get to enjoy what this little island has to offer families. For more information about things to do indoors and outdoors in Guernsey 
---
If you are considering relocating to the island, the team at Locate Guernsey are on hand to provide confidential guidance throughout your relocation journey free of charge. If you would like to understand how Guernsey could work for you, please get in touch on 01481 220011 or email enquiries@locateguernsey.com. 
© All photo credits - Guernsey With Kids