ARTICLE •
PUBLISHED: 15 May 2023
Island Games Guest Blog - Sam Field, Attaché

In this edition of our Island Games guest blog series, we speak to Attaché Sam Field about volunteering for the Island Games, falling in love with Guernsey 23 years ago whilst on holiday and welcoming thousands of athletes, coaches and their supporters to our beautiful island this Summer.
If you are interested in relocating to Guernsey for a better work/life balance or simply want to find out more about setting up a business in Guernsey, please get in touch. 
---

© Photo credit - Sam Field
1. Can you tell us a little about yourself, what you will doing for a volunteer role at this Summer's Games and whether you have had any previous experience of volunteering at an Island Games?
I'm an import to the island, having moved here from New Zealand. I fell in love with the island within hours of arriving and hey presto, my two week holiday here has turned in to 23 years fantastic years.
I volunteered for the 2003 Games a few years after arriving on the island, and worked a few afternoons as a car park attendant at the Tennis Centre. I remember the great sense of camaraderie and fun at the event as we were really involved with something that was quite a bit different on Guernsey.
I've been lucky enough to be appointed as an attaché to the Åland team, one of four attachés supporting them. I'm not too sure if glorified taxi driver or gopher is the best description of the attaché role, but it is truly dynamic and highly varied role where we are there to support the Åland committee and team in whatever logistics, travel, local knowledge or help they need throughout the entire Games period, including the lead up and close down of the Games. 
2. Why did you want to volunteer for the Island Games in 2023?
It is just an amazing chance to get involved with one of biggest events that Guernsey has seen for the last 20 years and is likely to see for some time in to the future. Guernsey has looked after me so well for the past 23 years, so this is my chance to give a little bit back to the island and say thank you.
In years, (maybe even decades!) gone past I have been involved with sailing on the island, and that is heavily reliant on volunteers to make the races go ahead - basically no volunteers means no racing! With that knowledge, I was only too keen to get involved with the 2023 Games.
I've also had friends friends volunteer at the London Olympics and Birmingham Commonwealth Games and I admit to being envious of their experiences there. This is a chance to get involved with something similar, but without the logistics challenge of having to leave the island for two weeks!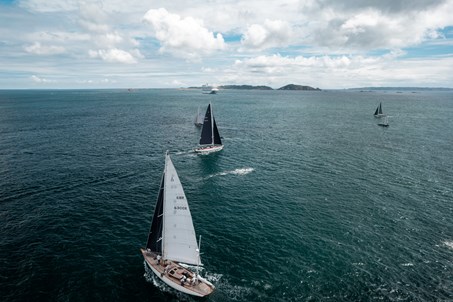 3. What are you most looking forward to about the Games?
I met the main team principals from Åland at the IIGA AGM last year and had a great with them, and am looking forward to seeing them again, but now I'm itching to meet the rest of the Åland team.
Through my work I regularly chat with colleagues from the Falkland Islands, St Helena, Ascension Islands and Faroese Islands, so i'm really looking forward to meeting delegates from those islands too. They're also small, close knit communities so I have already started talking about the Games and athletes with my colleagues from those islands, and they all know someone involved. It'll be great to put some names to faces.
As an attaché I'm strangely looking forward to the manic hullaballoo of the week - we'll be all over the island with our team members, and the unpredictable madness of the days will be exciting to manage.
Of course it is always a pleasure to take people around the island, share a bit of the local history and stories with them, and showcase the best the island has to offer.
4. Can you provide us with a reason why local islanders should come out to watch and support  the competitors this Summer?
These are the Olympics of the islands! It is a great to chance to see the best athletes from 24 different islands competing side by side in a multitude of sports. We have world level athletes coming to the island and it's not often you get to watch world class level competition on your doorstep. Guerns love a good community event, and this is going to be one of our best and biggest ever events.
5. What legacy do you hope the Island Games will leave for future generations of local islanders in Guernsey?
I hope it inspires people to either take up sports they've never tried before, or get more involved with their clubs or teams if they're already a member somewhere. Athletes and volunteers are the lifeblood of any club so I hope this inspires people to "give it a go" or get more involved with community sports.
I know there is a lot of infrastructure being installed to support the sports, venues and facilities and hope the enhancements in these areas make sports a more enjoyable experience for everyone going forwards. Sports is always more enjoyable with the right kit behind you!
6. What do you love most about island life in Guernsey?
I love the closeness of island life, and that means both the close friendships, community relationships and spirit, as well the compact distances we have to travel. There aren't many places in the world you can finish work and be sitting on a beach with a picnic within 10 minutes! That said, the majority of athletes and support teams will be coming from equally small and compact communities, so will understand this part of island life.
I've always loved the island spirit and resilience in the face of challenges like weather delays or disruption to life ... how many times have the shop shelves run low due to bad weather preventing supplies from coming in, but we all just crack on with life as that's just part of living on a small island.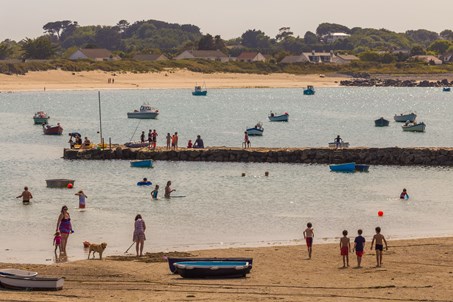 If you are considering relocating to the island, the team at Locate Guernsey are on hand to provide confidential guidance throughout your relocation journey free of charge. If you would like to understand how Guernsey could work for you, please get in touch on 01481 220011 or email enquiries@locateguernsey.com.