ARTICLE •
PUBLISHED: 22 October 2023
Settling In Series Guest Blog - Guernsey With Kids, October Half Term

With October Half Term now underway, we've teamed up with Guernsey With Kids for Antonia's top 5 Guernsey activities during this autumn break. 
If you are interested in relocating to Guernsey for a better work/life balance or simply want to find out more about the island, please get in touch.
---
It's hard to believe that it's already October half term, but it can be a beautiful time of year to be in Guernsey. We might be a small island but there is so much to keep kids entertained in Autumn, whether you're looking for something indoors our outdoors, we have something for everyone. Here are our top 5 things to do with children in Guernsey during the October half term holidays.
1. Have fun in the trees at Le Guet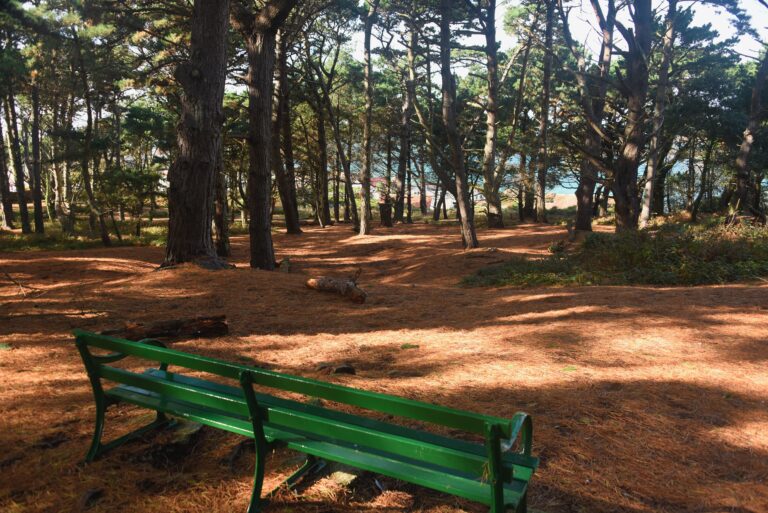 Le Guet, Cobo
Le Guet is a hidden gem and a well-kept secret just inland from Cobo Bay on Guernsey's West coast. Le Guet is a small pine forest which offers trees to climb, rope swings, dens and hundreds of blackberries to pick (in season). It also gives a breathtaking view over Cobo Bay.
The collection of century old Monterey pine trees makes Le Guet feel like no other place in Guernsey. The trees shade a large area of land leading down to the Cobo Coast Road. There are lots of logs for kids to climb on and a number of rope swings hanging from the trees which kids love to swing on.
On the right hand side of the forest is a small path that leads up to the watch-house. The path is a little steep but it is well worth the walk up because from the watch-house you get the most stunning view over Cobo Bay.
For information about Le Guet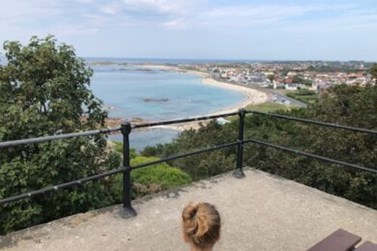 View of Cobo Bay from Le Guet                                               The Watch-House at Le Guet
---
2. Test your football skills at Aztech Soccer Arena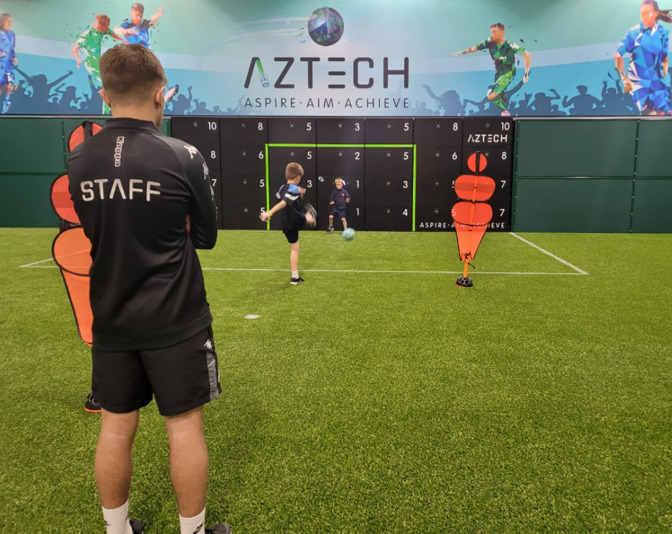 Football coaching at Aztech
Aztech Soccer Arena offers a soccer experience like no other in Guernsey, and it has something for everybody, including serious football fans or those that just enjoy a kick-about. With a popular holiday club for boys and girls available during the October half term, a fully interactive Tech Zone and an on-site café and restaurant, Aztech will keep the whole family entertained.
Aztech was developed to lead the way in football education and development in Guernsey, and that can be seen as you enter the centre and view the large indoor 3G pitch. The 3G pitch offers a premium playing surface like no other on the island, along with an interactive goal area, giving penalty and goal-keeper practice.  The indoor pitch is used during kids after-school clubs, holiday clubs (for children in reception to year 6) and during birthday parties.
The Tech Zone is a really popular area at Aztech because it contains lots of target practise games that are completely interactive, great fun for kids and highly addictive! The high-tech games have names such as 'Cube', 'Icons' and V2, and in essence, it is where players have to kick the ball to hit the LED-light sequences, earning the player points every time they hit the flashing light, with the incentive to get onto the daily leaderboard.  The timer counts down during each game, so it becomes a frantic game of concentration, helping players to improve their agility and kicking accuracy whilst having loads of fun. It is possible for kids 7yrs+ to play in the Tech Zone for an hour for only £10, this also gives players access to the outdoor floodlit 4G pitch during that hour. Sessions need to be booked in advance, CLICK HERE to book a time slot. 
For more information about Aztech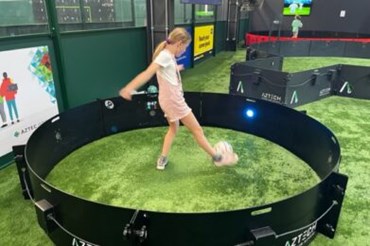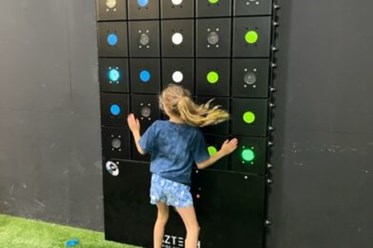 Enjoying the Tech Zone at Aztech                              The Reaction Wall in the Tech Zone 
---
3. Play, cycle, feed the ducks and stop off at the café at Saumarez Park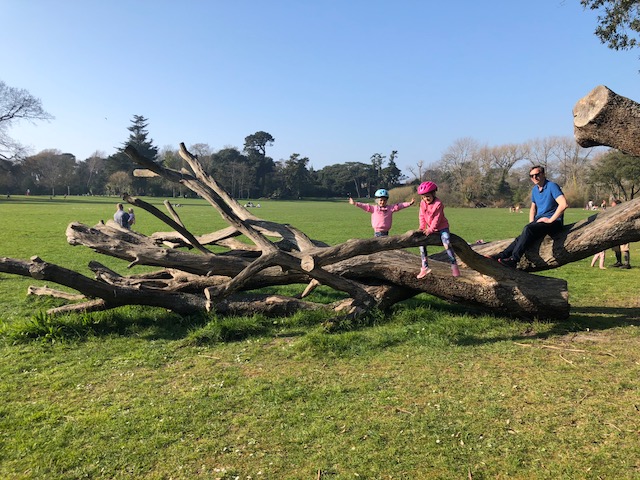 Tree fun at Saumarez Park
We are very lucky in Guernsey to have a number of great play parks, and our firm favourite is Saumarez Park. Guernsey's largest public park, located a few minutes' drive inland from Cobo Bay, is the perfect place for combining biking, feeding ducks, climbing trees, lots of playing, and thanks to the great café, it has something for everyone.
There is a lovely sense of space in Saumarez Park due to the large expanse of grass in the centre, and thanks to it be being fully contained (with walls and trees lining the outer edges), kids can run freely. No matter when you visit you will see families enjoying playing football, throwing a frisbee etc on the lawn.  
On one side of the park is the beautiful Japanese Pavilion and duck pond. My girls love dumping their bikes and running onto the pavilion to feed the ducks. No matter how much food they have had, they always seem very hungry ducks! It's also really peaceful watching the carp come to the surface taking advantage of the glut of duck food.
Saumarez Park has a fantastic playground for children of all ages and it is by far my girls' favourite on the island. The centre piece is a large pirate ship with a tall climbing section joining the two ends of the ship. There is also a whole host of things to play on suitable for children of all ages from swings, slides, zip wire and swinging ropes to a lighthouse.
For more information about Saumarez Park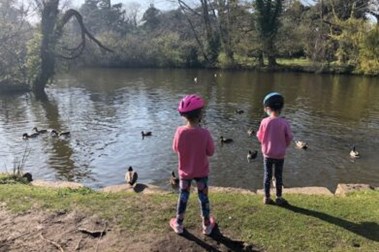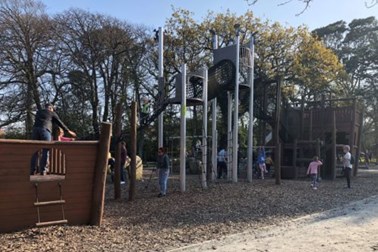 Feeding the ducks at Saumarez Park                                    Pirate Ship at Saumarez Park
---
4.Build a bear at Sunshine Bears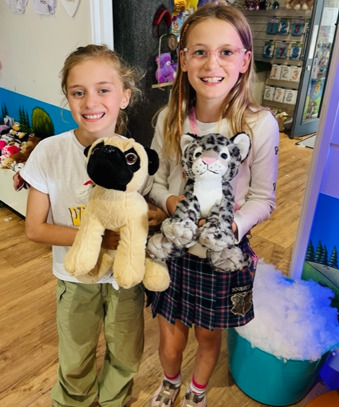 New friends made at Sunshine Bears
Sunshine Bears is located at Oatlands, just next to the entrance of Oaty & Joey's and offers a completely unique experience for children in Guernsey. From the moment you step into store you are struck by the choice of bears for children to make, the vast array of clothes and accessories on offer and most of all, kids are drawn to Karaoke Oaky, the singing tree!! 
Sunshine Bears offers a full make-a-bear experience for children where they can make an 8" bear (£15) or a 16" bear (£21). Whichever bear is chosen, the process of making it is the same and the following steps are followed;
Choose a teddy – this is the hardest part, there are so many to choose from!

Choose an outfit – for an additional cost, children can choose from dressing gowns to full on outfits with hats and shoes

Stuff your teddy – children help operate the stuffing machine and add magic sparkles and a heart into their teddy

Add sound – a selection of sounds can be added inside the bear, from a dog barking to the Happy Birthday song!

Make a wish – children are asked if they would like to make a wish. They can think of something themselves, or they can read the Sunshine Bear wish about caring for and loving their Sunshine Bear.

Dress your teddy – the fun part, kids get to dress up their new teddy

Make it official – children complete an adoption certificate for their bear

Photo time – There is a lovely photo backdrop at the back of the store, so children can have a photo with their finished bear.

Home time – Children take home their finished bear
As we were nearing the end of the school term before the summer holidays I was looking for a treat that my girls would enjoy, and despite being 10-years old, they still love cuddly toys.  I knew they would thoroughly enjoy making their own teddy, so I took them to Sunshine Bears and I certainly wasn't disappointed.  Both girls loved every minute of it, and I recommend it to anyone looking for something to do with their child(ren) during half term.
For more information about our experience at Sunshine Bears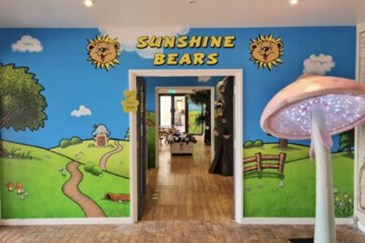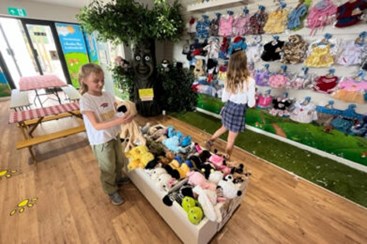 Sunshine Bears at Oatlands                               Choosing a teddy and outfit at Sunshine Bears
---
5.Geocaching - have you joined the treasure hunt?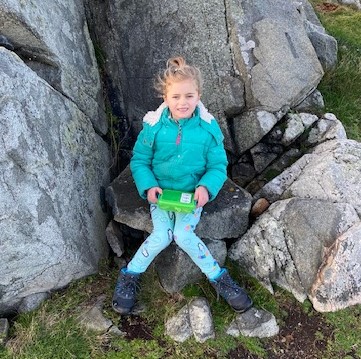 Geocaching at Pembroke
Geocaching is a secret weapon when you want to get your kids out in the fresh air.  It's a real-life treasure hunt where you use GPS on your phone to find containers called "geocaches" or "caches" that have been hidden.  There are more than 3 million active geocaches worldwide, and there are hundreds of caches in Guernsey along with on Lihou, Herm, Sark and Alderney.
The official website for geocaching is geocaching.com, with an easy-to-use app 'Geocaching®' with all of the GPS coordinates for the caches logged on the website and the app. The app is free to download and it only takes a few minutes to register your details and you're ready to start treasure hunting. Once on the website/app you will see the map of Guernsey and green circles which indicate the location of the caches. Each cache has its own info page which gives you a description of the cache (what you are looking for e.g. small black box) and often a hint as to where it is hidden.
There are 3 types of cache sizes: Traditional, Micro and Nano.  Traditional caches are waterproof boxes that contain a logbook and pen/pencil along with small tradeable objects (think party bag stuff).  Once you have found the cache, kids can swap what's in the box for any tradeables they have brought with them (the reason to keep party bag stuff!).  For my girls it is the excitement of finding the box rather than what they find in the box, however, they will always find something to trade.
Once you have selected the cache you want to find on the app, press the green 'navigate' button and you will see how far you are from the cache and which direction to go to find it. It counts down in metres which adds to the excitement as my girls stare at the phone intently as we get nearer to caches shouting out the distance as it counts down. Once you find a cache, swap tradeables if there are any, and make a note in the logbook of your Geocache name and the date. Don't forget to press the 'Log' button on the cache page of the app, here you can write if you found the cache or mark it as DNF (Did Not Find), this helps other users as it is shown in the 'Activity' section.  Logging the cache will also give it a yellow smiley face (instead of a green circle) on the map, so you can easily see the caches you have found.  Don't forget to replace the box exactly where you found it.
We've had great fun finding new places in Guernsey whilst hunting for geocaches, some have required us to climb rocks, others search in the undergrowth and by far the most daunting was finding the 'Lands End' cache on the Peastacks in St Martins which was rated a 2 for difficulty however, after seeing my kids near the edge of a sheer drop on the Peastacks, I thought 'never again!'. 
For more information about Geocaching in Guernsey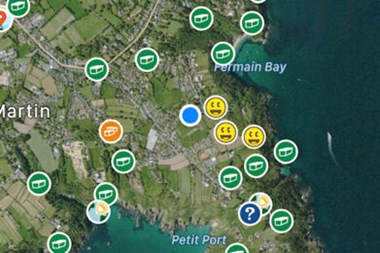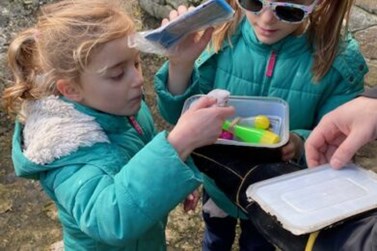 Geocache app                                                         Finding a Geocache
---
Whatever you choose to during October half term hope you have fun and enjoy what Guernsey has to offer come rain or shine. For more information about things to do with kids indoors and outdoors in Guernsey
---
If you are considering relocating to the island, the team at Locate Guernsey are on hand to provide confidential guidance throughout your relocation journey free of charge. If you would like to understand how Guernsey could work for you, please get in touch on 01481 220011 or email enquiries@locateguernsey.com. 
© All photo credits - Guernsey With Kids