ARTICLE •
PUBLISHED: 6 June 2022
Guest Blog - Cédric Bail, Deputy to the Chief Administrator at Hauteville House

In this month's guest blog we speak to Cédric Bail, Deputy to the Chief Administrator of Hauteville House. He tells us all about Victor Hugo, his love for Guernsey, its considerable influence on his life and work along with Cédric's own relocation to Guernsey in 2009.
If you are interested in relocating to Guernsey for a better work/life balance or simply want to find out more about setting up a business in Guernsey, please get in touch. 
---
The acclaimed French author and poet spent 15 years in Guernsey while in exile from France. As a Republican and therefore a political opponent to Emperor Napoleon III, Victor Hugo settled in Guernsey and bought Hauteville House, a large white building with a garden overlooking the sea in St Peter Port.
Hauteville House was donated to the City of Paris in 1927 by Hugo's family and is now open to visitors for guided tours between April and September each year.
Hauteville House Garden
After studying History and Geography at Grenoble University, Cédric's dream was to work abroad within a cultural establishment like a museum, "The first time I came to Guernsey was in May 2005 to work in Hauteville House as a tour guide…I would return every year for the tourist season until I decided to reside in the Bailiwick permanently in 2009. I am now one of the Deputies to the Chief Administrator of Hauteville House."
Victor Hugo fled France in December 1851 and initially fled to Belgium until he was expelled, "After a short stay in Belgium, the famous writer decided to settle in Jersey but got expelled from the sister island in 1855 because of his support to a French journalist who had criticised the actions of Queen Victoria and Napoleon III." Hugo eventually arrived in Guernsey in 1855 and bought his only property, Hauteville House from the proceeds of his poetry collection Les Contemplations.
The house is 5 storeys high and overlooks the old town of St Peter Port, Castle Cornet and Havelet Bay. Furnished and decorated entirely by the author, he poured his creative genius into the property and transformed it into an extravagantly decorated home packed with sumptuous antiques and luxurious textiles.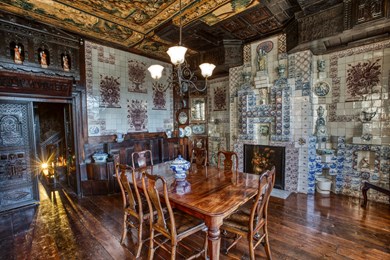 The Dining Room, Ground Floor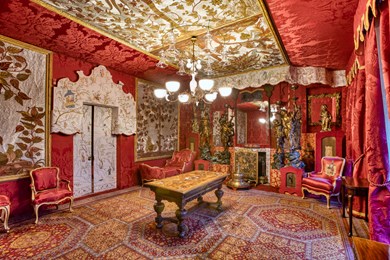 Red Lounge, First Floor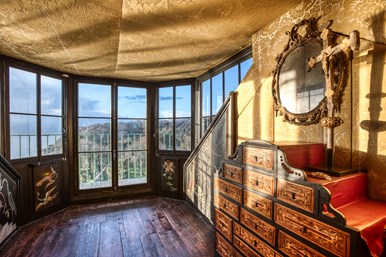 The Look Out, Third Floor
The writer would sit or stand working at a small table atop the property by the open windows. Here he finished some of his greatest works such as Les Misérables and Les Travailleurs de la mer (Toilers of the Sea). 
"I believe that the writer loved Guernsey because it gave him and his family a place to live while in exile, the nature and the people certainly had an impact on the poet. But who better than him to express his feelings about Guernsey and the Channel Islands in general, 'Anyone who has seen the Channel Islands loves them; anyone who has lived there has a high opinion of them.'"
St Peter Port is proud to have been called home by Hugo, but it isn't just Hauteville House which is preserved as an homage to him. A Victor Hugo walking trail can be followed from Candie Gardens where you will find a statue of Hugo created by the French sculptor Jean Boucher in July 1914 all the way through town to the Town Church. In 2012, a bronze statue of Victor Hugo and an octopus on a granite bench was unveiled by the Guernsey Arts Commission for a photo opportunity before heading up the hill to Hauteville House itself.  For a full guide to the route, you can visit the Visit Guernsey website here.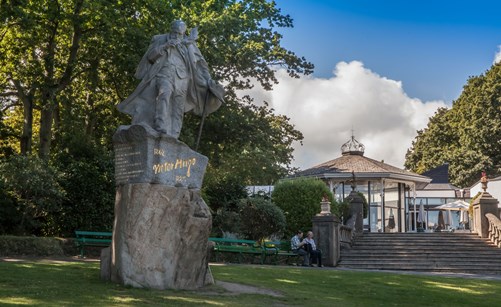 Victor Hugo statue, Candie Gardens
Having moved permanently from France to Guernsey in 2009, Cédric has had to acclimatise to a different way of life on a small island, "There would not be enough time to talk about Guernsey, but for me, small gestures mean a lot. I have always been amazed by the kindness of people I encounter in the streets or in the Ruettes Tranquilles. There is always a 'hello' or a nod of a head from perfect strangers whether it is 6am or 10pm".
If you are considering relocating to the island, the team at Locate Guernsey are on hand to provide confidential guidance throughout your relocation journey free of charge. If you would like to understand how Guernsey could work for you, please get in touch on 01481 220011 or email enquiries@locateguernsey.com.