ARTICLE •
PUBLISHED: 2 August 2022
Parishes of Guernsey

If you are considering a relocation to Guernsey, you will already know about our island's beauty, community spirit and work/life balance but now you'll want to explore our ten parishes and find the one which best suits the needs of both you and your family.
Due to the size of the island and the density of the population, there are strict controls on who may occupy dwellings in Guernsey.
If you are interested in relocating to Guernsey for a better work/life balance or simply want to find out more about setting up a business in Guernsey, please get in touch.
1. St Peter Port
Considered one of Europe's prettiest harbour towns and the parish is colloquially known to Islanders as town. As the island's capital, home to just over 19,000 residents, it is a thriving parish full of top-quality restaurants, pedestrianised shopping streets and leading names in finance, insurance and law.
Interesting fact: Victor Hugo completed Les Misérables whilst residing at his home in Hauteville.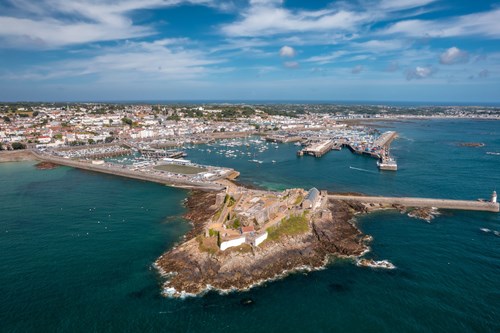 2. St Martin
Where cliff paths and sandy coves meet green lanes and spectacular views for walking. Situated in the South-East corner of the Island, it is one of the most popular parishes on the Island. This is due to its close proximity to St Peter Port, the airport yet with access to stunning scenery.
Interesting fact: Just outside St Martin's parish church stands La Gran'mère du Chimquière (the grandmother of the churchyard). A statue-menhir thought to date back to around 2500 BC where present-day brides often adorn the pagan statue-mehir with a floral headdress.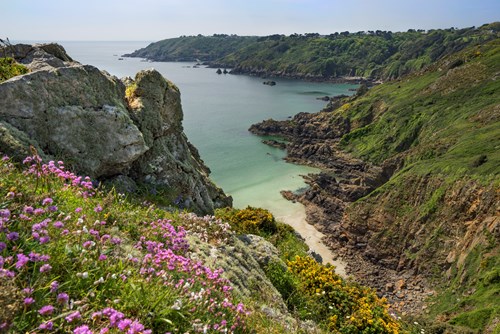 3. Castel
With a mixture of old farmhouses and modern redevelopments, Castel is the largest parish in terms of area, located on the West coast of the Island. A family-friendly parish with space for a number of community events such as La Viaer Marchi and North Show. With the finest sandy beaches in the island, watching the sunset with fish and chips at Cobo is definitely recommended!
Interesting fact: Guernsey has the second largest tidal range in the world at 33 feet. The coastline is transformed every six hours so high tides are perfect for swimming and low tide you can explore the many rock pools!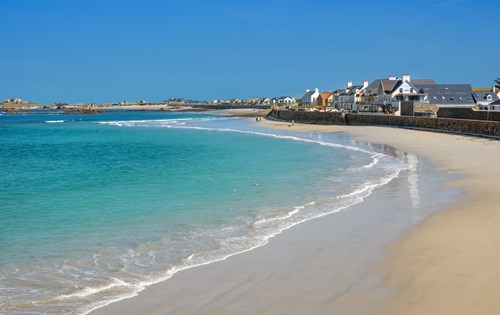 4. Vale
The second largest parish in size and home to just over 9,000 residents, the winding green lanes mixed with quaint fishing harbours surround the extensive common land at L'Ancresse Common. There is a Royal 18-hole links course which is home to two of the island's golf clubs.
Interesting fact: Before 1806, Vale was once not connected to Guernsey but separated by water, known as the Braye du Valle. This northern part of Guernsey was called the Clos du Valle.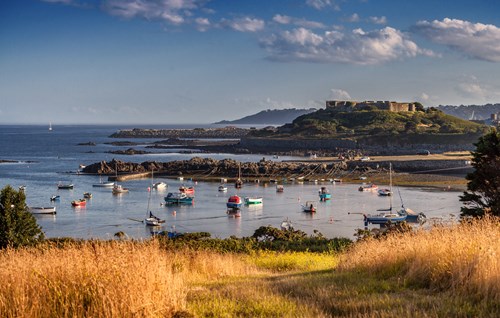 5. St Pierre du Bois
Translated in English as St Peter in the Wood, the parish is very rural and made up of mainly countryside with a small village in the centre. Located on the South-West coast of Guernsey, it has two coastlines – exceptional sandy beaches on the West coast and dramatic high cliffs on the South coast. Located at the far end of L'Eree beach, you will find Lihou. A small island accessed by a stone causeway at low tide only and forms part of Guernsey's first RAMSAR site.
Interesting fact: Many houses in Guernsey's west have an unusual piece of granite sticking out of them – these are witches' seats. Back when witches supposedly ran wild in the western parishes, residents built them onto their houses so that they could stop and rest, rather than causing havoc.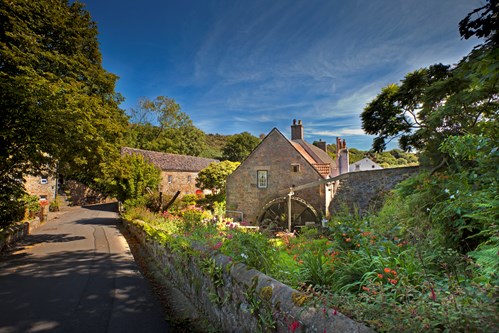 6. St Saviour
This is where you will find many farmhouses, with some dating from the 17th century where local families have resided for generations. With plenty of lush green spaces for pasture you will find plenty of agriculture in this parish.
Interesting fact: The Island's world famous dairy breed, Guernseys, are capable of creating high quality milk and cheese thanks to their above-average levels of protein and butterfat production.
7. Forest
Home to Guernsey airport and around 1,500 residents the Forest is a Western parish along with St Saviour and Torteval. With large areas of open green spaces, the parish is well known for its community floral displays which have won many Floral Guernsey and Britain in Bloom awards.
Interesting fact: The highest parish on the island, with altitudes of up to 100m.
8. Torteval
The smallest of the 10 parishes in Guernsey, Torteval has plenty of space due to one of the lowest population densities along with St Pierre du Bois. Its name comes from the Guernesiais for twisting valley.
Interesting fact: The Fairy Ring is a mysterious circle in the ground at the island's Western extremity, Pleinmont. It was a stopping point for officials of the Royal Court who paraded across Guernsey, and folklore suggests that if you walk around it three times and then make a wish, it will come true.
9. St Andrew
Located in the centre of the Island, St Andrew is the only parish which is landlocked. Although without access to the sea, the parish is filled with rural pasture and orchards once pivotal to cider making in the Island.
Interesting fact: The Little Chapel is located within the valley at Les Vauxbelets, one of the world's smallest consecrated chapels and was recently renovated in 2020.
10. St Sampson
St Sampson is Guernsey's second largest town and contains the affectionately known area, The Bridge. Now a recreational marina, the harbour was historically a centre for shipbuilding and an export hub for Guernsey granite.
Interesting fact: The parish church claims to be the oldest church in Guernsey and was built where Samson of Dol first came ashore in the 6th century.
If you are considering relocating to the island, the team at Locate Guernsey are on hand to provide confidential guidance throughout your relocation journey free of charge. If you would like to understand how Guernsey could work for you, please get in touch on 01481 220011 or email enquiries@locateguernsey.com.