ARTICLE •
PUBLISHED: 15 February 2023
Settling In Series Guest Blog - Guernsey With Kids, February Half Term

Most of the island's students will soon be breaking up for their Half Term holiday, so we asked Antonia Rainbow from Guernsey With Kids to provide parents, who may have recently relocated to Guernsey, with her top 5 activities to keep their children entertained this Half Term.
If you are interested in relocating to Guernsey for a better work/life balance or simply want to find out more about setting up a business in Guernsey, please get in touch.
---
It's that time of year when you can experience all 4 seasons in 1 day in Guernsey, so if enjoying the island's beautiful beaches is off the cards this half term, what is there to keep children entertained? The answer is plenty! Here are our top 5 things to do with children in Guernsey during February half term.
1. Guernsey Museum & Art Gallery at Candie Gardens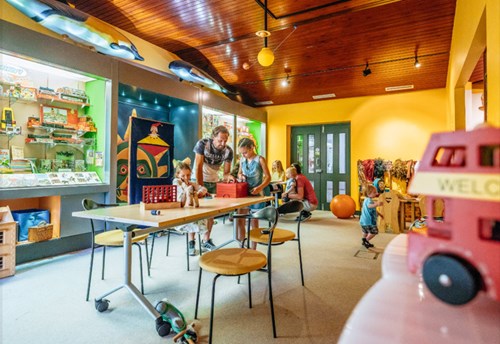 The Discovery Room at Guernsey Museums & Art Gallery
The Guernsey Museum at Candie, in St Peter Port, is a great place for a visit with kids thanks to the Discovery Room, a dedicated space for children with lots to explore including an immersive Time Warp area, games, colouring, Punch and Judy, a sensory wall (lots of switches, locks, handles, buttons etc for children to switch/press/play with) and the Cabinet of Curiosities. The Cabinet of Curiosities is a small display of eclectic objects from Guernsey Museum's collection. It is inspired by early museums, where objects were displayed to inspire awe and wonder. Objects on display currently include a lock of Victor Hugo's hair, Inuit snow shoes, and a mummified hand, (yuck!).   
Every January the Time Warp area has a new theme for the year, and for 2023 it is 'A Picnic with Renoir'.  The area has been transformed into a beautiful scene at Moulin Huet with a little cottage and a striking backdrop.  There are easels and colouring supplies for children to use, along with lots of play to be had in the cottage, thanks to the play food, wooden crockery, utensils, play sink, wood burning stove and there are cupboards and shelves for kids to explore. 
Guernsey Museum at Candie is open daily from 10am to 4pm with Café Victoria open 7 days a week. Admission is £7 for adults and £2 for children under 18 and students, and under 7-year olds are free, or opt for a Discovery Card for £22 and receive free entry for a year. 
For more information about the Guernsey Museum CLICK HERE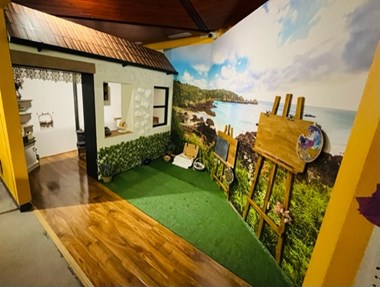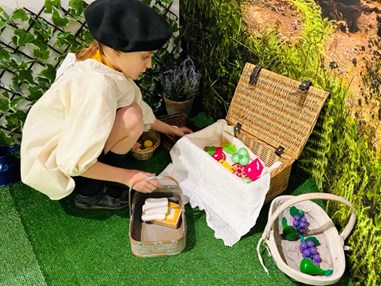 2. Lihou Island
Lihou Island
We always enjoy a visit to Lihou as it's a great adventure for kids (and it's FREE!), from the causeway to get to this small uninhabited island, through to the amazing rock climbing and sense of freedom that you feel. The causeway to get to Lihou is only open during very low tide, and it is open during half term (from Sat 18th to Sat 25th Feb), however, it is only open for a select few hours each day, so be sure to check out the causeway opening times HERE.
The causeway to Lihou is on the L'Eree Headland and is signposted off Les Sablons coast road.  Follow the windy road all the way to the end where you'll come to a parking area. Once parked, you need to walk down the slipway which leads to the causeway.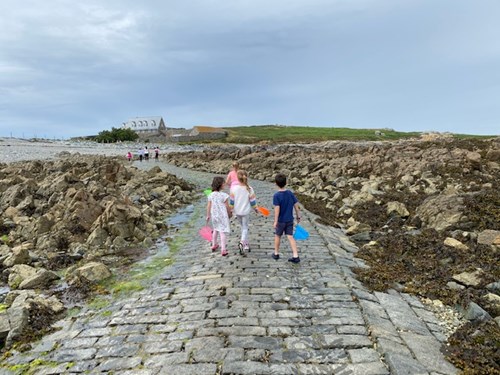 Lihou Causeway
The causeway changes from cobbled stone, to pebbles, back to cobbled stone etc and in places the water is deep enough to cover a kid's foot! The views are beautiful and it is amazing to think the walkway is underwater for most of the day. It usually takes us about 20 minutes to get across the causeway and at the end you will see Lihou House on higher ground ahead of you.
There is a path that takes you around the island (which is a designated Ramsar wetland site) and you can go in either direction with the landscape changing slightly in different parts of the island, with grassy sections, pebbles, a small rocky area and a stretch walking through longer plants, however, wherever you are on the island, the views are beautiful.  Things to look out for are the remains of the Lihou Priory and The Venus Pool, a large rock pool with crystal clear blue/green water, it's freezing, but every time we go there seem to be people brave enough to swim in it!
Note that there are no facilities on Lihou so be sure to take drinks and snacks with you and a travel potty if your children are the age where it might be needed.
For more information about Lihou Island CLICK HERE
3. Oaty & Joey's Playbarn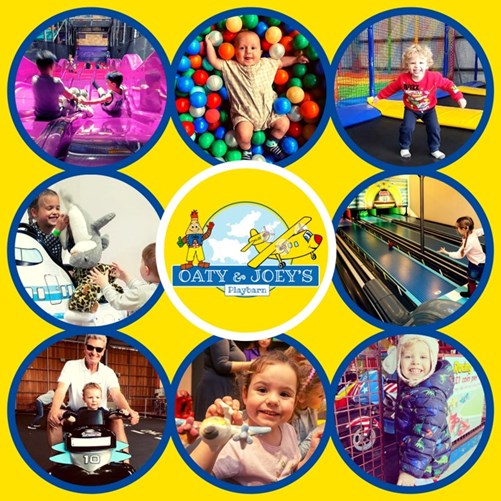 © Oaty & Joey's Playbarn
Oaty & Joey's Playbarn is located in Oatlands Village and is the place for entertaining kids in Guernsey and perfect to while away the hours during half term.  It is open 7 days a week and offers one of the UK's largest play frames, with lots of levels to explore, a variety of slides, including a giant 6.3m astra slide, interactive and sensory areas and a large play area for under fours. Also includes Highway 66 Bowling Alley, Make-A-Bear, pottery painting, trampoline barn, Oaty's Diner for hot and cold snacks/meals, and outside there are 2 mini golf courses!
Take advantage of their Half Term Meal Deal which gives a child entry to the playbarn,  any meal from the children's menu, a juice carton or a small slush and a 10 minute trampoline session, all for only £10.95!
For more information about Oaty & Joey's Playbarn CLICK HERE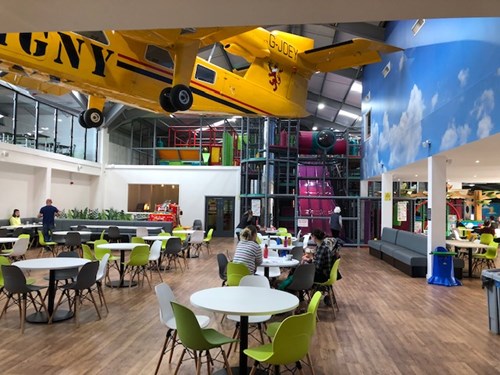 Oaty & Joey's Playbarn, Guernsey
4. Guille-Allès Children's Library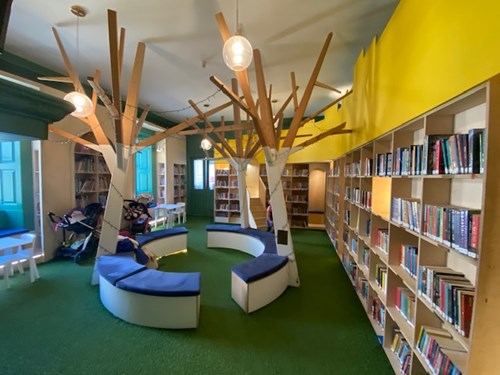 Guille-Allès Children's Library, Guernsey
The Guille-Allès Children's library in the heart of St Peter Port is a library like no other, and one of our favourite places to visit. In 2018, it was transformed into a magical world where children can learn, have fun and be inspired, thanks to staircases only big enough for children, raised walkways leading to secret shelves and reading nooks, the beautiful tree centrepiece covered in fairy lights, circular reading bench and the artificial grass covering the floors. And if that wasn't enough, the Children's Library is home to more than 15,000 books!
There are FREE activities taking place throughout half term with activities for children of varying ages, from Baby Social for little ones under one, to Chatterbooks, a book club for 8-12yr olds. CLICK HERE for full details of the libraries half term activities. 
For more information about the Guille-Allès Library CLICK HERE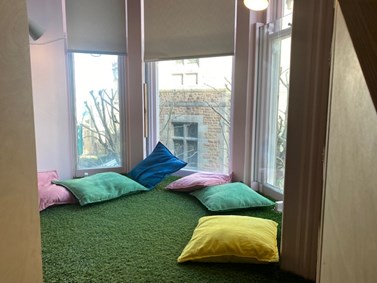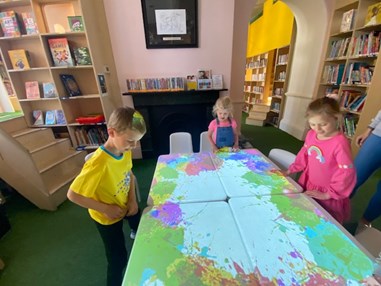 5. Les Vardes Quarry Nature Trail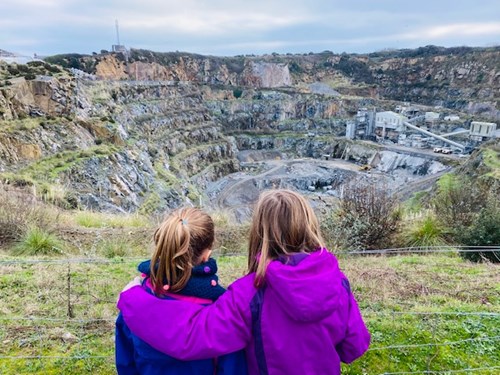 Les Vardes Quarry Nature Trail, Guernsey
This 2k walk on Guernsey's North West coast road, (Route des Pulias), takes you around the Ronez Quarry with amazing views into the quarry, (you won't believe how deep it is!) and over the West coast. 
The trail starts with an initial section in the trees which leads to a gravel path that leads around the top of the quarry.  From here the views into the quarry are amazing, my girls couldn't believe it when we first visited, you feel so high up!  Follow this path for a while and then it will turn into a dirt path within a more wooden section which will lead to a grassed area with a picnic table and bench.  This is a fabulous spot for a picnic as the views out to sea are beautiful, though parents might be unpopular with the kids having a picnic in February!
This is a lovely mud-free walk for children of all ages with the new addition of an Animal Adventure Trail, with beautifully carved animal statues to look out for. This really is a must for fans of lorries and trucks, especially if you visit on a week day during half term when the quarry will be in action.
For more information about the Les Vardes Quarry Nature Walk CLICK HERE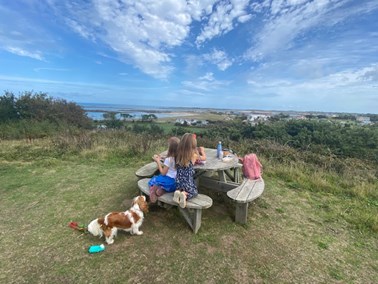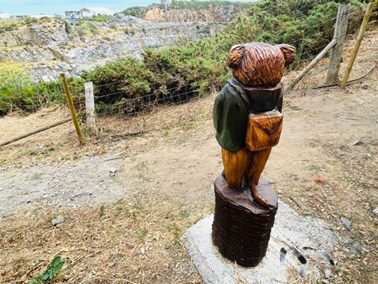 Whatever you choose to do this half term, hope you have fun and get to enjoy what this little island has to offer families. For more information about things to do indoors and outdoors in Guernsey
If you are considering relocating to the island, the team at Locate Guernsey are on hand to provide confidential guidance throughout your relocation journey free of charge. If you would like to understand how Guernsey could work for you, please get in touch on 01481 220011 or email enquiries@locateguernsey.com.