ARTICLE •
PUBLISHED: 3 October 2023
Relocate to Guernsey Show - Guernsey With Kids

As part of the Relocate to Guernsey Show 2023, a brochure was produced for all delegates. This article was created specifically for the brochure. 
If you are interested in relocating to Guernsey for a better work/life balance or simply want to find out more about setting up a business in Guernsey, please get in touch.
---
Guernsey is a fantastic location to raise a family. The island's safety and strong sense of community means parents can feel at ease, whilst its green open spaces and long sandy beaches offer children an unparalleled natural playground.
After relocating to the island in 2018, Antonia Rainbow noticed that whilst there was so much to do in Guernsey for her young family, there was a lack of information available online. This led her to establish GuernseyWithKids, a free online information hub to help families make the most of the island.
We spoke with Antonia about her life in Guernsey and why she decided to establish Guernsey With Kids.
---
1. Can you tell us a little bit about yourself and your family and how you came to live in Guernsey.
I'm Antonia, mum to 10-year old twin girls, Tilly and Lottie, and after years of my husband Nick commuting over 2 hours a day for work, and missing out on so much precious time with the girls, we knew he needed a better work/life balance.  We hoped that when he was offered a job in Guernsey in 2018, it would give us the much needed change we were after. 
Fast-forward five years and moving to Guernsey has been the best thing we have ever done. Nick's 2-hour commute was swapped for a 10-minute commute and we can walk to the beach from our house.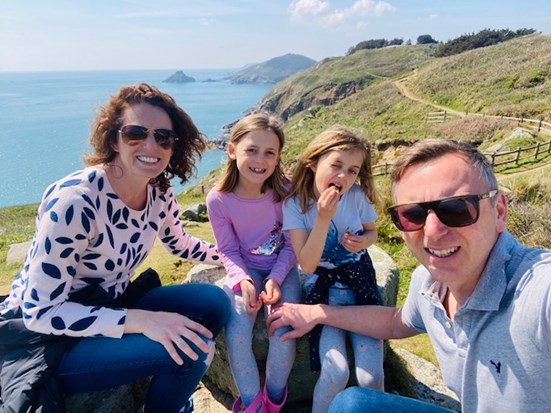 Antonia & her family in Herm
2. Guernsey With Kids is a great resource of local activities for those with children living in Guernsey. Why did you decide to set up Guernsey With Kids?
When we moved to Guernsey, I found it hard to know what to do with my girls. For example, I searched online and found pictures of beaches, but no information about how to get there and whether they were family friendly.
It led to me having more questions: Where are the parks? Where are the best walks for kids? Where can we entertain the kids in bad weather? I started writing a blog about our adventures, but soon realised there was a need for something more than that, so I decided to create a website containing all the information parents and carers need, whether they live in Guernsey or are considering the island for a holiday.
3. What makes Guernsey so special for bringing up a young family?
Guernsey is an amazing place to raise children, and I feel very lucky that my girls are growing up here. I might appreciate it so much because my girls lived their first 5 years in the UK, where we spent so much time queuing in traffic driving to and from places, and I was very aware of keeping them safe. In Guernsey they have a much greater sense of freedom and the ability to get to places without sitting for hours in a car means we get so much more done in a day.
We get a lot of pleasure out of doing simple things in Guernsey which don't involve money, and that for me is one of the main benefits of bringing up children here - we love cliff walks, beaches, the nature trails, exploring the forts and the list goes on and on!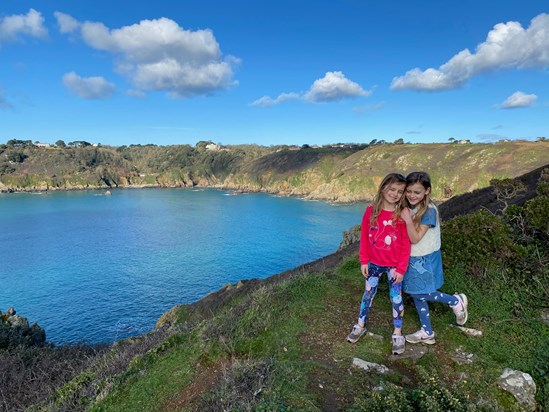 Tilly & Lottie at Icart, St Martin
4. What are you favourite Guernsey activities to enjoy with your children?
There are countless things that we enjoy doing as a family in Guernsey including cliff walks because the scenery is breath taking, having a picnic lunch on the beach, visiting Lihou island and Herm (the Herm gift shop is a must for kids). The place we always take friends that visit is The Little Chapel - no matter how many times we visit it still amazes us how small it is and my girls see it as a fairy castle made for kids!
I asked Tilly and Lottie what their favourite things are in Guernsey and Lottie said making a candle at Guernsey Candles and Oaty & Joey's (large soft play). Tilly's favourite thing is pottery painting at Iris & Dora and she has already said she would like to work there when she is older!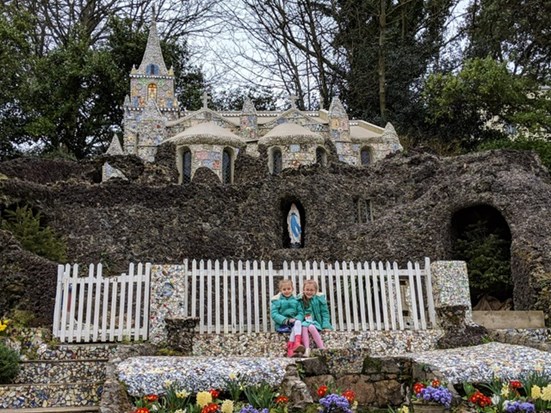 Tilly & Lottie at The Little Chapel, St Andrew
5. Relocating to a new place can be challenging for the whole family, what are your top tips for helping children settle into island life?
It can be daunting for children when they move to a new country, and for us the key was to remove as much of the uncertainty as we could. For example, my girls were worried about starting a new school, so three months before our move we flew to Guernsey for a few days and the girls spent half a day at their new school, giving them the chance to take photos of the school, meet the head teacher and their new class teacher. The school also kindly selected five girls who would be in their new class and they played games together. This really eased Tilly and Lottie's anxiety and actually made them excited about the move.
The other thing I would say is that, no matter what interest/hobby your child has, there will be a club for it in Guernsey as there are over 100 kids clubs on the island! I would get them signed up for a trial session as quickly as possible after moving so they can meet kids with similar interests.
For family friendly guidance on indoor and outdoor activities in Guernsey and well as more general support for those with families, please visit www.guernseywithkids.com
---
If you are considering relocating to the island, the team at Locate Guernsey are on hand to provide confidential guidance throughout your relocation journey free of charge. If you would like to understand how Guernsey could work for you, please get in touch on 01481 220011 or email enquiries@locateguernsey.com.
© All photo credits - Antonia Rainbow, Guernsey With Kids